From
here
:
by

Guy Millière



France did not perceive it at the time, but it placed itself in a trap, and the trap is now closing.

In the 1970s, the Palestinians began to use international terrorism, and France chose to accept this terrorism so long as France was not affected. At the same time, France welcomed mass-immigration from the Arab-Muslim world, evidently as part of a Muslim wish to expand Islam. France's Muslim population has since grown in numbers while failing to assimilate.

Polls show that one-third of French Muslims want the full application of Islamic sharia law. They also show that the overwhelming majority of French Muslims support jihad, and especially jihad against Israel, a country they would like to see erased from the face of earth.

"It is better to leave than flee." -- Sammy Ghozlan, President of the National Bureau of Vigilance against Anti-Semitism. He was later mugged, and his car was torched. He left.

Villiers also mentions the presence in "no-go zones" of thousands of weapons of war. He adds that weapons will probably not even have to be used; the Islamists have already won.

Originally, France's dreams might have been of displacing America as a world power, accessing inexpensive oil, business deals with oil-rich Islamic states, and the prayer of no domestic terrorism.
Although overwhelmed by a domestic situation it barely controls, the French government still intervenes in the world affairs: a "Palestinian state" is still its favorite cause, Israel its favorite scapegoat.
France persists because it is desperately trying to limit problems that probably cannot be solved.
France did not perceive it at the time, but it placed itself in a trap, and the trap is now closing.
They see that France tolerates Palestinian terrorism, and seem not to understand why France would fight Islamic terrorism in other places.
To please its Muslims, the French government may believe it has no choice other than to be as pro-Palestinian and as anti-Israel as possible -- even though it looks as if this policy is failing badly in the polls.
The French government undoubtedly sees that it cannot prevent what increasingly looks like a looming disaster. This disaster is already taking place.
Marine Le Pen is the candidate of the far-right National Front.
JUST LIKE IN CANADA - TWO SUBMISSIVE SOCIALIST GANGSTER PARTIES, ONE RATIONAL ONE.
Zemmour defines the arrival of millions of Muslims in France during the last five decades as an invasion, and the recent arrival of hordes of migrants as the continuation of that invasion. He depicts the creation of "no-go zones" as the creation of Islamic territories on French soil and an integral part of a colonization process.
He writes that the eruptions of violence that spread are signs of an imminent explosion; that sooner or later, revolt will gain ground.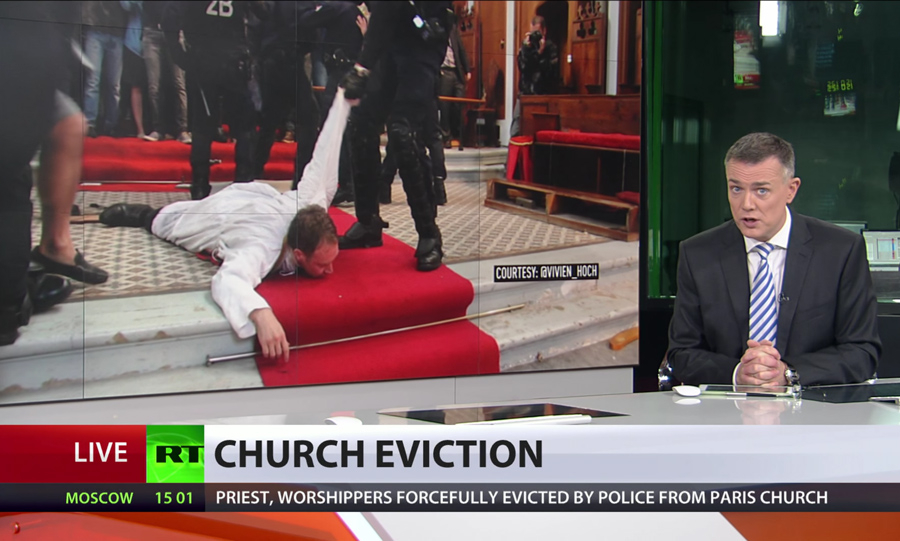 In his new book, Will the Church Bells Ring Tomorrow?, Philippe de Villiers notes the disappearance of churches in France, and their replacement by mosques. Pictured above: On August 3, French riot police dragged a priest and his congregation from the church of St Rita in Paris, prior to its scheduled demolition. Front National leader Marine Le Pen said in fury: "And what if they built parking lots in the place of Salafist mosques, and not of our churches?" (Image source: RT video screenshot)
INDEED. FRANCE DESERVES TO BE DESTROYED, THEN COLONIZED BY SANE PEOPLE.
Dr. Guy Millière, a professor at the University of Paris, is the author of 27 books on France and Europe.
.......
First, there is a typo in the article: it's really 752 no-go zones, not 572.
And, Re: "France persists" (in denial) "because it is desperately trying to limit problems that
probably cannot be solved" ... "The French government undoubtedly sees that it cannot prevent what
increasingly looks like a looming disaster. This disaster is already taking place. Perhaps France's
current government is hoping that it might delay the disaster a bit and avoid a civil war. Perhaps,
they might hope, the "no go zones" will not explode -- at least on their watch."
This is nothing new to France: the French people have always been, as George Bush put it, "Cheese-
eating surrender-monkeys" since even before the first Crusade. Back when they were actually a
Germanic people, their own leader, Big Carl aka Charlemagne, wanted to be accepted as the Roman
emperor so badly, that he sacrificed their own culture and language, by riding around his own
kingdom, smacking his people in the head until they gave in and Submitted to speaking a bastardized
form of Latin with bad accents (how else did they get "EAU" from "AQUA!"?). And since then, nothing
has changed: during the Crusades, they sought to COMPROMISE them selves with the muslim Arabs who had
invaded the entire formerly GREEK, CHRISTIAN Middle East from their tiny but hellish homeland of
Arabia, by marrying muslimas, converting to islam and then bringing their half-breed children back to
France with them after their inevitable defeats, possibly comforted by the notion that it's not a
defeat when you "chose" to SURRENDER in advance.
Then they invited the Turk into Europe, to help them against their rivals in the Austro-Hungarian
empire. Historical French jealousy envy and "revenge" against their neighbours is only matched by
their muslim brethren.
So, why were the muslims invited into France THIS TIME?
LE GRAND REMPLACEMENT! Socialist cultural Marxists want to REPLACE Europeans with compliant Third
World 'NOBLE SAVAGES' who are used to dictatorship and will not speak up when tyranny is imposed.
Europeans are unworthy of socialism, because they believe in individual human rights.
Under socialism only the COLLECTIVITY has rights. In Islam only the UMMAH has rights….which is saying
that 'no one' has any real-live individual human rights at all; only the inhuman idolatrous group or
gang has rights.
Bottom line?
Islam (like liberalism) is carefully-crafted, "pre-emptively defensive," criminal negligence.
It's theodicy (i.e: who to blame, and how to blame them, for when things "inevitably" go wrong)!
Exactly like their muslim brethren, liberals are nihilists who fear the dynamics of life and prefer
the "safety" of static death. And they also want to bestow this 'mercy' on everyone else, too.
As proud masochists, they always pretend to "control" their fears, BY causing those same worst-case-
scenario problems (like, attacking innocent other people) which cause the pains they fear the most.
They presume that, since their own deaths are all "predestined," and "predetermined," and nothing
they do will change the inevitable outcomes, they might as well keep indulging in delinquency
(suicide) here and now, because "Why quit smoking now if you're only going to die in a car accident
later anyway?"!